yhlee
The time has come to find new homes for some of the vintage fountain pens in my collection.
These are all great pens, but the truth is I have a fair number of great pens and these are ones that simply aren't making it into my rotation. I'd rather someone else get some enjoyment out of them!
All prices include shipping within the continental USA. Elsewhere, please inquire--I will probably have to charge you shipping at cost. I accept payment via Paypal.
If interested, either leave a comment or email me (yoon at yoonhalee dot com).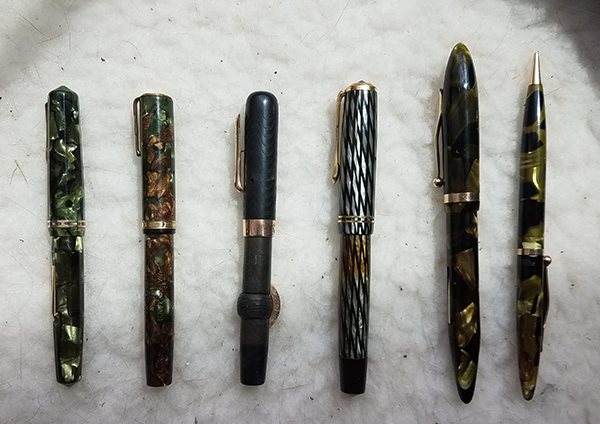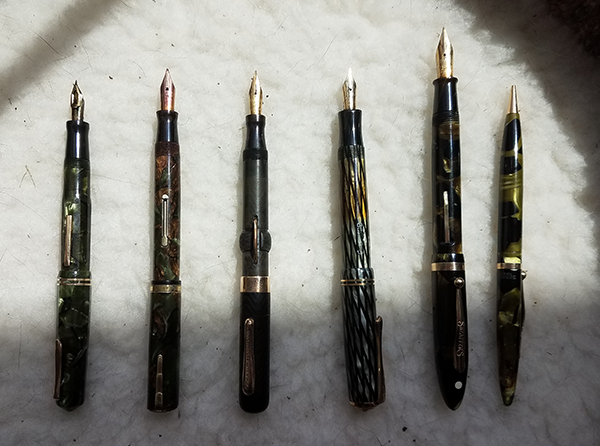 From left to right:
1. Wahl-Eversharp Doric in Kashmir (a sort of dark swirly marbled green). Lever filler. The great thing about this pen is that it has a #3 adjustable nib. It goes from Fine to Broad on the flexiest setting. The only reason I'm letting this go is that I have a Wahl-Eversharp Doric in black with a #7 adjustable nib, and I honestly don't need
two
adjustable Dorics.
Please note that the #3 Doric is a petite pen--unless you have very small hands, you will probably want to use this posted.
Price:
$225.
SOLD
NOTE:

troisroyaumes
gets first call on this one. If she doesn't want it, then someone else can have it!
2. Waterman Lady Patricia that I bought from Mauricio Aguilar of
Vintage Fountain Pens
. He graded it a superflex, and it's a pleasurable and absolutely reliable writer; I've always had great experiences with the pens I've bought from Mauricio. Lever filler. Again, this is a lovely pen that I simply don't use--in this case because I'm busy using a
different
pen that I bought from Mauricio, a Waterman 52V (for which Jedao's Patterner 52 was named :p). Like the #3 Doric, this is a petite pen, and probably best used posted unless you have very small hands.
This is a handsome pen with green and brown swirls, and I love looking at it, but I really prefer for all my pens to be working pens that get used. Maybe you can have fun with it!
Price: $410.
3. Conklin Crescent Filler--the crescent filling mechanism is not that different from lever filling and is very simple to use, and really neat if you love geeking out about different filling mechanisms. This is a wet noodle that does hairlines, if you're into flex writing or copperplate; I probably wouldn't recommend it for sketching because of the fineness of the nib, but it would make a great fountain pen for non-sketch-speed line art.
Price: $320.
4. Osmia 34 in gray candy. This is a very flexy nib that goes from Fine to Broad, and unusually, it's in a piston filler. Please note that the material is discolored along about half the barrel (ambering)--this doesn't affect the pen's functionality, although if you care more about aesthetics this is not the pen for you. This nib has an almost painterly feel to it that is very pleasurable for writing.
Price:
$240
. [Going to

rushthatspeaks
for a trial run!]
5. The last two are a Sheaffer Balance in Marine Green, fountain pen and mechanical pencil set. The fountain pen is a lever filler and has a flex nib; I'm not sure what width graphite the pencil takes, although it comes loaded with one. The set is very handsome; please note that the fountain pen has a chip near the lever. This doesn't affect function but may be an aesthetic concern.
Price: $210.
NOTE:

troisroyaumes gets first call on this one. If she doesn't want it, then someone else can have it!
(She decided to get the Wahl-Eversharp Doric instead, so this pen and pencil set is available!)